Virtual Astronomy Panel Sheds Light on Pōwehi Black Hole
Researchers discuss landmark discovery, celebrating anniversary of Pōwehi Day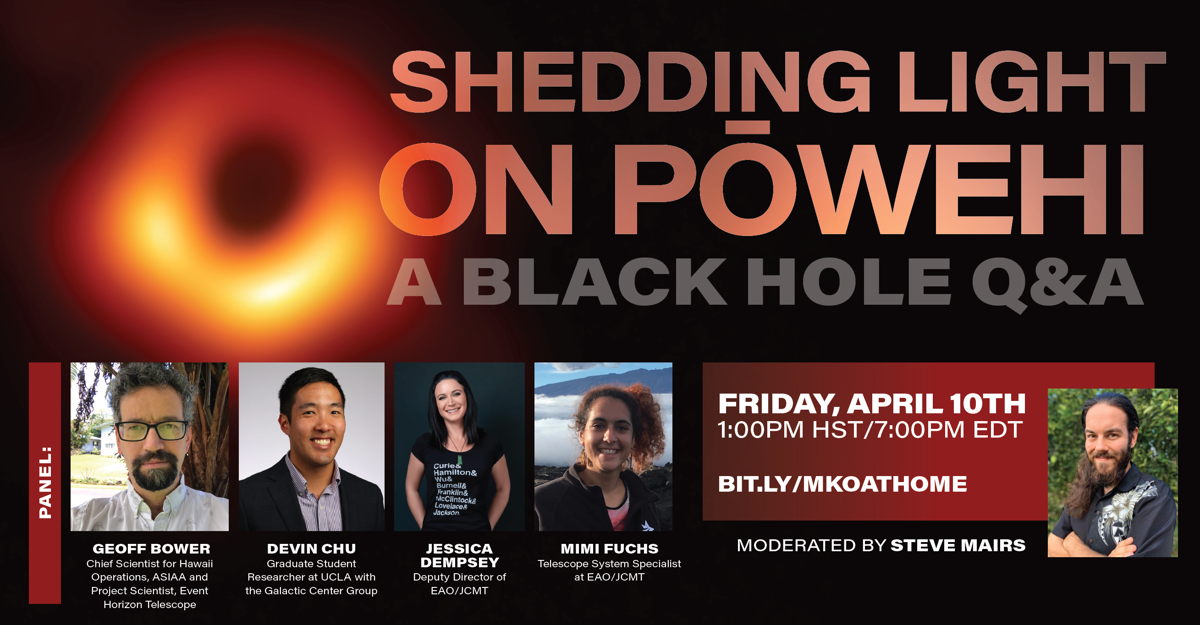 Hilo, HI - The Maunakea Observatories hosted a virtual, live Q&A panel to answer questions on the breakthrough discovery of Pōwehi, the first black hole ever imaged. This live online educational event ended the week-long black hole celebration driven by the observatories' digital outreach effort – MKO@Home.
On the first anniversary of Pōwehi Day, researchers involved in the groundbreaking observational campaign shed light on the discovery and fielded questions on the most mysterious and powerful objects in the cosmos. Keiki, students, teachers and STEM enthusiasts from around the world tuned in to participate in and watch the live panel.
"Black Hole Week has allowed us to celebrate Pōwehi, honor its Kumulipo-inspired name, and explore a topic that continues to fascinate the world," said Mary Beth Laychak, strategic communications director at the Canada-France-Hawaiʻi Telescope. "We are committed to inspiring discovery in Hawaiʻi's next generation of scientists, astronomers, engineers and researchers, so it was a delight to see so many local teachers and keiki watching the panel."
The expert panel included:
Dr. Jessica Dempsey, deputy director of East Asian Observatory's James Clerk Maxwell Telescope

Dr. Geoff Bower, chief scientist for Hawaiʻi Operations, ASIAA and Project Scientist Event Horizon Telescope

Devin Chu, graduate student researcher at UCLA with the Galactic Center Group and Hilo High School graduate

Mimi Fuchs, Telescope System Specialist at EAO/JCMT
"It took a global array of telescopes, anchored here in Hawaiʻi with the James Clark Maxwell Telescope and Submillimeter Array, to capture an image of Pōwehi," said Dempsey. "Today we were able to connect with community members near and far, to dive deeper into the discovery and answer their burning questions."
The panel touched on a new discovery announced this week from the same Event Horizon Telescope that brought the Pōwehi discovery last year. For the first time, astronomers observed a jet travelling at close to the speed of light, that began in the vicinity of a supermassive black hole, named 3C 279.
3C 279 resides at the center of a galaxy 5 billion light years away in the direction of the constellation Virgo. This galaxy, classified as a quasar, shines ultra-bright and flickers, signifying that massive amounts of gases and stars are falling into the giant black hole at the center. The new jet images, zooming in an area smaller than a light-year, show an unexpected twisted shape at its base. Comparing the images of 3C 279 over several days, the astronomers saw the finest details changing, opening up the possibility that we are actually seeing both the rotation of the accretion disc (with the shredding and infall of material), and the jet ejection, previously only modeled in computer simulations of these objects.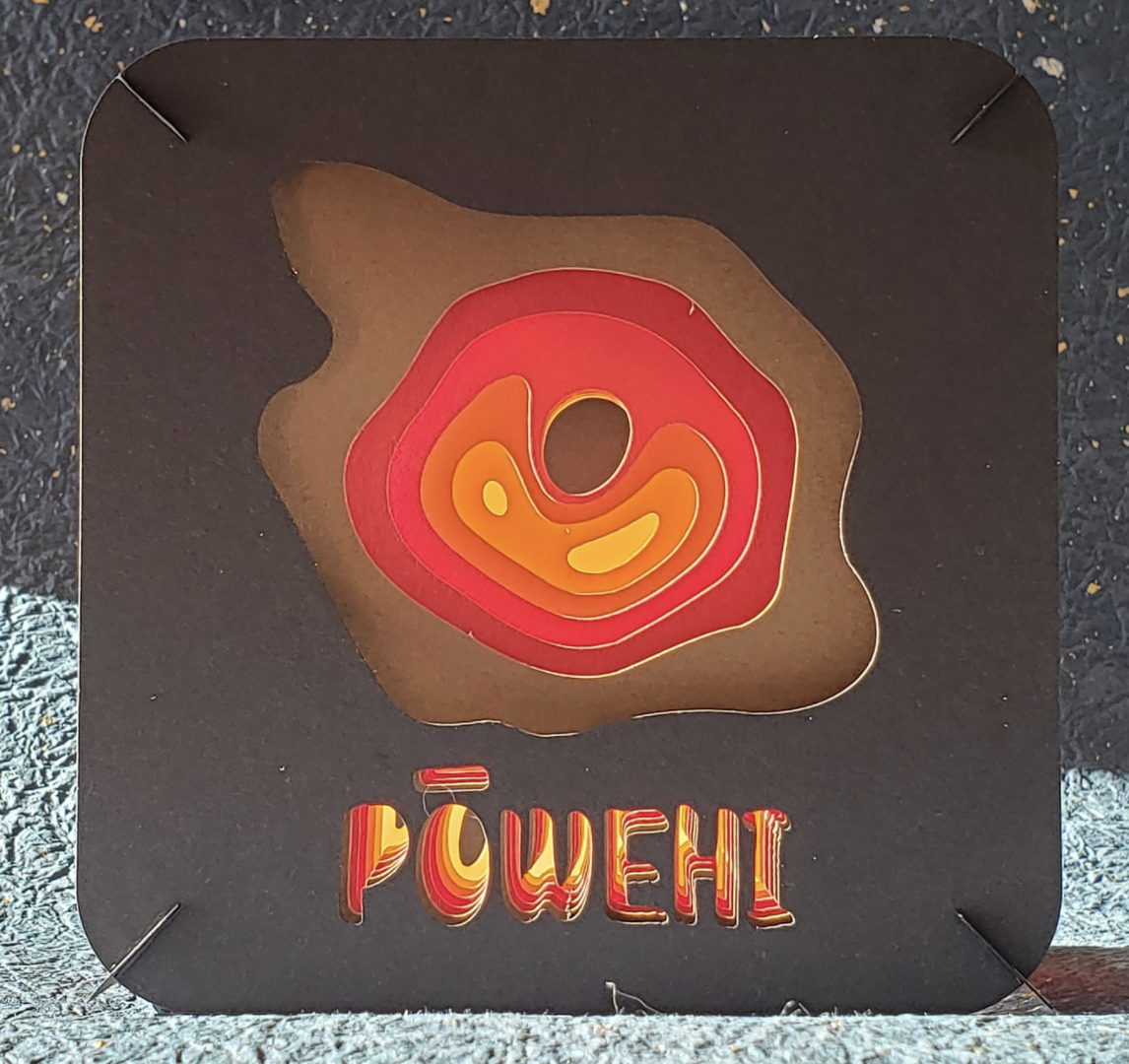 The Maunakea Observatories also sponsored a #MyPōwehiPic art contest to celebrate Black Hole Week and Pōwehi Day. The grand prize entry, a lasercut diorama, came from Julien Lozi of the Big Island. Upp Glass Hawaiʻi and Alexis Acohido took home honorable mentions for their creations.
While telescope operations have been suspended to observe the statewide shelter-at-home order for COVID-19, observatory employees are redoubling their efforts to provide community outreach, educational resources and student learning from home. MKO@Home activities, contests, resources and educational science videos are all available at www.mauna kea observatories.org, https://www.facebook.com/MKOOC/ and the Maunakea Astronomy Outreach Committee YouTube channel.
About Maunakea Observatories
The Maunakea Observatories are a collaboration of independent institutions with telescopes located on Maunakea on the island of Hawai'i. Together, the Observatories make Maunakea the most scientifically productive site for astronomy world-wide. The Maunakea Observatories include: Caltech Submillimeter Observatory, Canada-France-Hawai'i Telescope, Gemini International Observatory, James Clerk Maxwell Telescope (EAO), NASA Infrared Telescope Facility, Subaru Telescope, Submillimeter Array, United Kingdom Infrared Telescope, University of Hawai'i Hilo Educational Telescope, University of Hawai'i 2.2 Meter Telescope, Very Long Baseline Array and W. M. Keck Observatory (Keck I and Keck II).

Catherine Coleman Account Executive, Bennet Group Strategic Communications